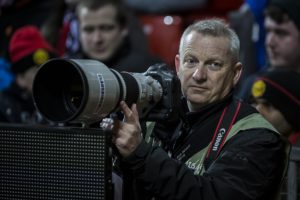 ClausBirchDK is a private owned agency, that provides high quality, editorial photographic coverage of sports events to a wide range of publications. There are currently more than 34.000 images in my archive.
I work as a freelance photographer and journalist, and is a member of the Danish Journalists' Association, as well as the Sports Journalists' Association.
I am fully insured and holds a DK Press Card, DS Card and an AIPS Card.
As a football photographer, I have experience from the UEFA Under21 Championship, UEFA Euro Qualifiers, FIFA World Cup Qualifiers, UEFA Champions League, UEFA Europa League, Danish National Team, Bundesliga, English Championship, Danish Superliga and lower Leagues.
Sporting images straight to your picture desk
Please don't hesitate to contact me, if you would need images from a particular event.
Images can be transmitted direct to your picture desk during or shortly after an event. I am able to provide images by FTP, e-mail or by live download from an online gallery.
Editors who require ongoing, high-resolution download access to the extensive image archive, feel free to contact me with details of your publication and your requirements.
Purchase images
The purchase and download of high resolution images from the galleries is possible via a password protected account. To sign up for a basic, free account, click here.
Images are available for use in an editorial context in newspapers, magazines and on websites. Press "Buy Image" and select Editorial Use license.
Most images are also available for purchase in the form of prints or digital downloads for personal use. Purchase options are displayed in each of the galleries. Press "Buy Image" and select Personal Use license.